PORDENONE BLUES & CO. FESTIVAL – PORDENONE FOR HOLIDAY
PORDENONE BLUES & CO. FESTIVAL
PORDENONE FOR HOLIDAY
After two difficult years, in which events have suffered a partial setback, we are happy to present the 31st edition of Pordenone Blues & Co. Festival, one of the most famous musical events of 2022 in Italy, scheduled July 19th-23rd.

We have prepared a special offer for anyone who wants to be part of a wonderful celebration of blues, soul, funky, rock music: the background is Pordenone, the "painted city", not far from Venice and Venice airport, with its old town full of frescoed palaces, museums, wine bars… and music.
For the grand opening, a double appointment with an engaging band and a Grammy-winning artist: Vintage Trouble and Christone "Kingfish" Ingram.
VINTAGE TROUBLE: a Californian band that mixes groove, retro rock, blues and pop in a bold and original style. They have performed in over 3,000 shows in 30 countries as a side band of The Who, The Rolling Stones, Lenny Kravitz, Bon Jovi and others.
CHRISTONE "KINGFISH" INGRAM: he recently was awarded with a Best Contemporary Blues Album Grammy, won with his new album "662", written during the pandemic and inspired by his personal experiences. He is one of the most interesting blues singers and guitarists on the planet.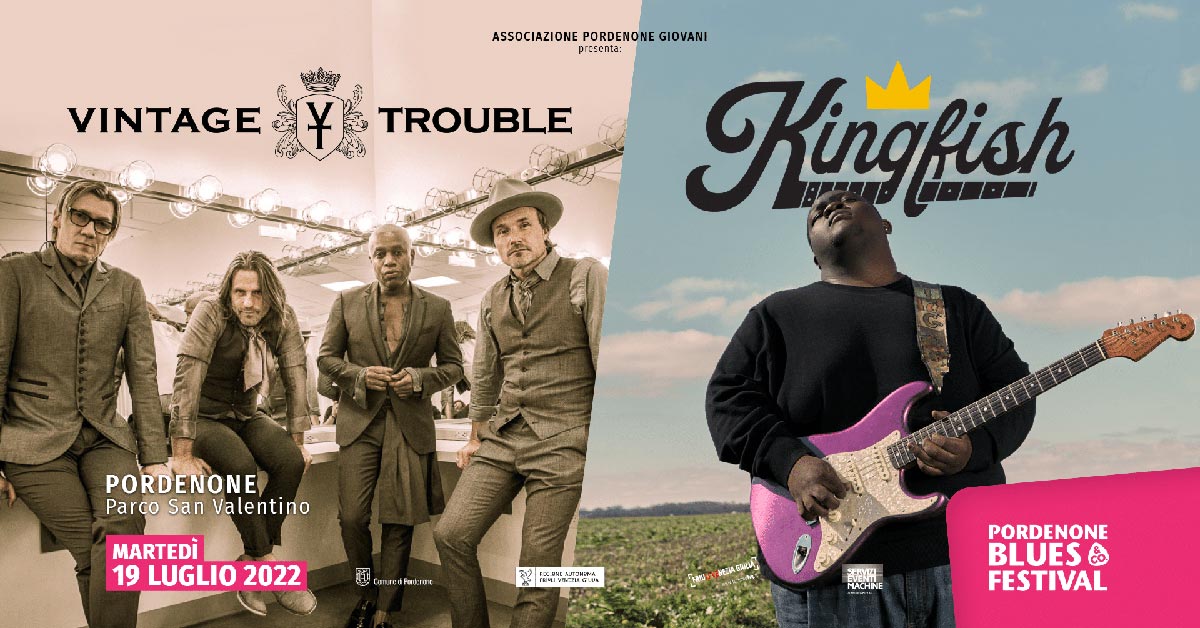 JEFF BECK at the Pordenone Blues Festival 2022: his name says it all. 50 years of musical career, 8 Grammy Awards, ranked 5th in the list of the greatest guitarists of all time, mentioned twice in the Rock & Roll Hall of Fame. He is one of the most influential rock guitarists of the sixties and seventies, as well as one of the most important for the evolution of modern guitar. He will perform in Pordenone with a special guest: JOHNNY DEPP, a Hollywood star, an experienced musician as well as a friend of the legend Jeff Beck.
FANTASTIC NEGRITO finally arrives in Pordenone: he sings about those difficulties, struggles and troubled life experiences that led him to lose everything and then made him start over after he had hit rock bottom. His three albums "The Last Days of Oakland", "Please Don't Be Dead" and "Have You Lost Your Mind Yet" won the Grammy Award for Best Contemporary Blues Album in 2016, 2019 and 2021 respectively: 3 nominations, 3 Grammys. A real record!
Fantastic Negrito will be preceded on stage by SUGAR BLUE, the musician who revolutionized the harmonica as an instrument in the blues genre, and GRAYSON CAPPS, an inimitable storyteller and emblematic character of the American blues, from Alabama.
Highly anticipated and always loved by the Italian public, the enthralling British rock band The Darkness has signed global hits such as "I Believe in a Thing Called Love", "One Way Ticket" and "Everybody Have a Good Time".
THE DARKNESS, led by the charismatic Justin Hawkins, boast a career full of awards, gold records and countless awards, including 3 Brit Awards, 2 MTV Music Awards, Kerrang Awards. A show not to be missed with a band capable of setting the stage on fire!
Our offer for Pordenone Blues & CO Festival 2022 – Pordenone for holiday
Stay one night in one of our hotels during Pordenone Blues & CO Festival and get, starting from 35,00€ per person per night*:
One overnight stay in double room breakfast included*;
A 50% discounted concert ticket and no booking fees applied*;
Guided tour in Pordenone old town on SATURDAY 23rd JULY at 11.00 am, upon reservation and subject to availability;
25% discount on the official merch of Pordenone Blues Festival;
Free entry to a local swimming pool to be used during the Festival dates;
Visit to the "I Magredi" Winery: by reservation only at times set by the winery, with transport from / to Pordenone included. You will have the opportunity to visit the winery and taste 3 local wines!
FVG Card 48h at only 10,00 €. The FVG Card allows you to take part in numerous activities for FREE or with discounts of up to 50%. Here are some examples:

Guided tour of Spilimbergo, the mosaics' capital;
Guided tour of San Vito al Tagliamento, the "elegant salon of Friuli";
Visit of Pordenone, the painted city, with audio guide;
Guided tour of Casarsa following the footprints of Pier Paolo Pasolini;
Guided tour of Sacile, the Garden of the Serenissima, with river tour;
Entrance to the Vecchia Strada della Valcellina, a spectacular canyon near the lake of Barcis;
Visit of the Vajont Dam;
Entrance to the evocative Pradis Caves;
Entrance to the Museum of Blacksmith Art and Cutlery in Maniago.
Contacts: info@pordenoneturismo.it
OFFERTA VALID UNTIL JULY 10TH 2022
*The price does not include the concert ticket and the FVG Card.